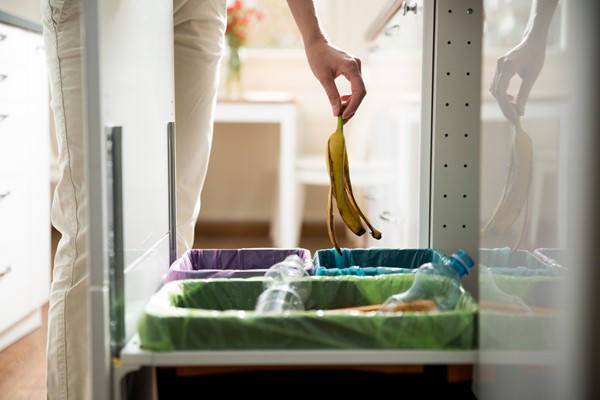 Disposing of waste is a common practice in all homes; in this age and time, it's essential to practice more than one disposal option. Kitchen waste if not correctly disposed of, would attract insects and larvae into your home – and cause your house to begin to smell.
There are many waste disposal options available to homeowners to select from – depending on your lifestyle. It's essential you dispose of your kitchen waste responsibly as rotten food releases methane; a greenhouse gas that's dangerous to your environment. Consider the following waste disposal options for your kitchen.
Conventional Trash Can
Many homes do not have access to garbage disposal but practice the traditional waste disposal option. Depending on your lifestyle, you don't need a big container for your trash can. Before putting your garbage bag into the trash can, consider laying it with old newspaper. What this those is to absorb moisture preventing it from leaking into your trash bin.
Composting
Composting is another common way to dispose of kitchen waste; It's recycling your kitchen waste to serve another purpose. Composting is a green way of disposing kitchen waste. Get a compost bin to sit in your kitchen for disposing of things like eggshells, tea bags, potato peel, coffee, and leftover foods. Empty the contents of the compost bin into your garden every couple of days. It's an effective method of disposing of food waste while also recycling to make compost for your garden.
Garbage Disposal
One popular option for getting rid of your kitchen waste is the garbage disposal option located underneath your kitchen sink. It's an excellent option for getting rid of leftovers, expired food, peels, and other unwanted food items. When using this option, you need to be careful to avoid clogs and jams. Get the help of a waste disposal company to install this effective disposal option in your home. To extend the life span of your garbage disposal, ensure you practice these simple steps.
Run your disposal daily to avoid freeze up or rust.
Use cold water in place of hot water to dispose of waste.
Run disposal longer than necessary to ensure complete flush of food down the drain.
Cut your trash into smaller pieces before feeding into your garbage disposal.
Use the peel of citrus fruit to clean out your garbage once in a while and also to eliminate unpleasant odor.
Animals
For people who live in an environment where they keep or rear animals, disposing of kitchen waste is usually not a problem. Animals like pigs, goats, birds, etc. can eat almost everything from the kitchen that ends in the garbage. Ensure you get informed on what food to feed your animals with before supplying them with your leftovers.
Proper disposal of waste encourages a clean environment, and a pleasant environment means good health. Follow these tips to ensure that your home and neighborhood are well-kept.